SKIRT SHAPE
MADCAT skirts come in two shapes – Flared or Straight.
MADCAT STRAIGHT SKIRTS are cut smaller on the hip and are more suitable for those of us that enjoy wearing long tops. As your figure matures, waists seem to expand and if this is the case for you then consider a straight skirt. Review the body shapes below that are suited to a straight skirt. The skirts are cut with 2 darts on the front and 4 darts on the back. They also have a deep 9 cm hem. The straight skirt is worn by Inge the model on the left in both photographs below.
MADCAT  FLARED SKIRTS are for those of us with a much fuller hip to waist ratio. You probably look great when you wear your skirt with a short fitted top. Examples of body shapes suited to a flared shape – see below. They are cut with just 2 darts on the back and have 2cm side seams from waist to hem. They are cut with a generous 5 cm hem. The flared skirt is worn by Sarah the model on the right in both photographs below.
Body shapes that suit different skirt shapes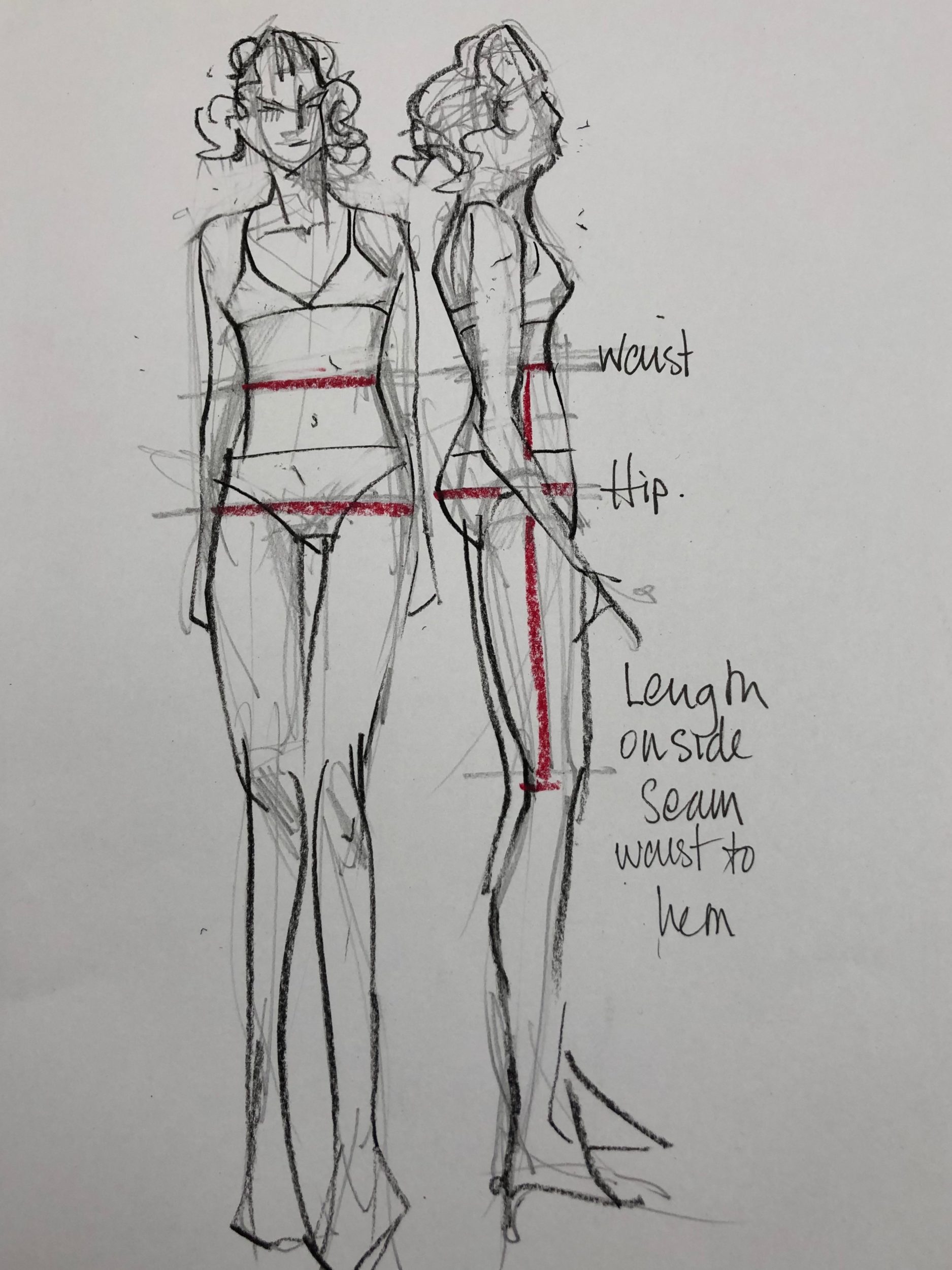 Please take your body measurements
Waist – this is the smallest horizontal measurement about half way between your bust and your hips. If you are not sure where this is, tie a ribbon tightly around your waist and it will work its way to the correct place. Your skirt will be made to this measurement so do not make it too tight – just comfortable.
Hip – this is another horizontal measurement about 20 cm /8 " below your waist. It covers the fullness of your bottom. If you are above or below average height of 5'6" (168 cm) then your hip line will be fractionally higher or lower than this. All skirts are cut 1-2 cm larger than your hipline measurement so the fabric does not cling to your bottom.
Length – this is taken from your waist down your outside leg to the length you require your skirt to finish.
Once you have taken your measurements and decided on a straight or flared skirt. Please select from one of the MADCAT stock sizes. The chart gives exact measurements. All the skirt fabrics contain Lycra so they do stretch but the waist band is a fixed non stretch measurement.
MADCAT skirts come in four NZ/UK sizes:
Small usual size 8-10  (USA 6-8); side seam length 58cm
Medium usual size 12-14  (USA 10-12); side seam length 60cm
Large usual size 16  (USA14); side seam length 62-63cm
X Large previously called Reubens size 18 (USA 16); side seam length 62-63cm
VARIATIONS TO STOCK / STANDARD SIZE
If you want your MADCAT skirt LONGER or SHORTER, SMALLER or LARGER on the WAIST and even an IN BETWEEN SIZE this is possible, but you will need to contact me to make this specific order. This then becomes a made to measure or altered to fit skirt and cannot be exchanged if you change your mind about the colour, design or shape. I can make changes to your skirt until you are happy with it but I cannot replace your skirt or refund your money, as it has been made especially for you.
Please read the made to measure page and  contact me with any requests to variations to the standard stock size  MADCAT skirts.
MADE-TO-MEASURE SERVICE
Most MADCAT skirts in the online store are available as a made-to-measure size. There is an additional one-off fee of $30 for a pattern to be drafted to your measurements, as opposed to a stock size skirt that is altered to fit you for $18.
If I already have your measurements on file from a previous order then this fee does not apply.
Allow 7-10 days for Made to Measure skirts
Please go to the  Made to Measure page for more details. You will need to contact me as I will need to check I have sufficient fabric to print and make your order.