BRIDAL WEAR BY JILL ALEXANDER
My unique bridal gowns are individually designed and exquisitely detailed for today's contemporary fashionable woman.
History provides us with such a rich selection of styles to choose from. You may have a favourite era. I can create anything from a 1920's beaded lace dress to a steam punk multi-layered creation complete with Victorian style corset and bustle skirt. Or perhaps you would like a gracious 1950's ball gown or an empire line gown from the 1800's time of Jane Austen's novel Pride and Prejudice?
Each dress is made to measure from scratch in my Nelson workshop following on from our initial consultation to ensure your dress fulfils your dreams, enhances your body shape and is within your budget.  My individually designed wedding dresses start from $2,500 and I can provide an estimate at your first FREE ONE HOUR CONSULTATION. Please telephone or email to arrange a consultation on a Sunday to suit you. 
Jill Alexander, MADCAT design director.
Every one of my wedding dresses is unique, and is designed especially for each individual bride. My 40 years plus of experience as a fashion designer, fashion lecturer and pattern cutter provides a unique opportunity for me to work together with my brides to achieve the dress of their dreams.
THE MAKING OF A VICTORIAN INSPIRED CORSETED WEDDING DRESS
WHAT OUR BRIDES SAY
Jill was a pleasure to deal with and the process was fun and exciting.  I loved what she designed for me including customised embroidery that made the outfit even more special to us as a couple.
Jill created an absolutely stunningly gorgeous wedding dress with her superb skills, ideas and her friendly personality made the whole experience one that I will always remember.
Jill helped my vision become a reality with her design flair, as well as provided professional and efficient customer service.
Jill worked intimately with me on every special detail of my gown. She listened to my every suggestion, putting her specialist, creative touch into making it a gorgeous balance of vintage yet classic and modern elements, sourcing the best fabrics from within NZ and abroad.
Thank you so much for all your work to create my new beautiful wedding dress. I had so many enquiries about it and will be recommending you to all.
The process begins with your free consultation. In order for me to fully understand and visualise your dream dress you will need to bring images that have inspired you, maybe from magazines, Pinterest, etc. You can try on the vintage inspired dresses and corsets that I keep in my workshop (limited sizes) and we can consider your body shape, skin tone and your inspiration to enable us to achieve the truly unique dress of your dreams for your perfect wedding day. I will then sketch out the designs and send them to you along with an estimate before any commitment is required from you.
When you are happy that I have designed your perfect dress, and you wish to go ahead, a non-refundable $500 deposit is required. I will then reserve/order the fabric to ensure it is ready here in my studio for your next visit which will be three to four months before your wedding date. During this visit I will take your full measurements to begin the pattern cutting process. Why the wait? Because in my experience many brides shed weight as the day gets nearer. At this visit we agree on the date your dress will be completed which can be a week before your wedding so you can be confident that I have done everything I can to ensure your dress fits you perfectly on your special day.
I allow a maximum of four visits following on from the initial consultation. The first is to take your body measurements (for brides outside Nelson, this can be done over the phone), the second is the fitting of the mock (toile) dress. At this fitting you must bring the underwear and shoes you will be wearing on your wedding day. The third visit is the fitting of the dress, to allow time for alterations. The fourth and final visit is to confirm the fit and define the finished length. You will then need to collect your finished dress (when you are welcome to try your dress on again) or we can courier to you.
If additional fittings (to those defined above) are required after the toile fitting due to changes to the original design, changes to the selected lace or fabric, change of body measurements or change of shoe/heel height, an additional hourly rate will need to be charged.
I also offer a wedding day dressing service for brides marrying within the Nelson region.
Summer brides (December to March) need to allow a minimum 12 week lead-in period from design to collection. Winter brides just need to contact me and we can take it from there.
Living Outside Nelson?
For brides living outside the Nelson region, I offer the same couture service that requires a minimum of three fittings. Please contact me  and talk through your requirements.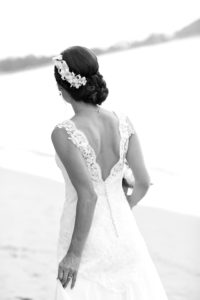 Find out more about our vintage inspired bridal wear
For alterations to your own bridal wear, new or preloved  please email or phone for an appointment and quote. I have over 40 years experience in fitting and working with beautiful fabrics.