WELCOME TO MADCAT DESIGN
Individually Hand Crafted Skirts and Garments, Created in the Heart of Nelson
MADCAT returns to working on line and from its Founders park boutique/workshop from the 1st September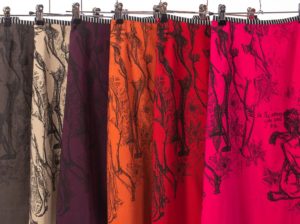 WHAT OUR CLIENTS SAY
I am looking forward to my new skirt, I wear so many of your different coloured skirts and just love them all! It's understated, elegant and beautiful… I do have many admirers whenever I wear a Madcat skirt.
I love the skirt, thank  you for making the longer length for me. I have always admired your skirts but thought they weren't for me because of the length, I do not like to show too much of my legs.
The Skirt you made for me has arrived in the UK safe and sound, and I love it… I wore the first skirt I bought from you, a fantail one in brown, to the opera last night in Sheffield (UK). I love it…its shape, its colour, the material, and its association with those lovely birds.